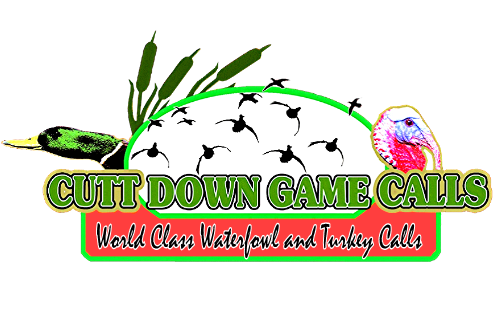 Cut Down Game Calls
World Class Waterfowl and Turkey Calls
Home of the Easiest Duck Calls in the World!
Lifetime Guarantee

–

Waterproof inside & out – Voice Analyzed Innovation
Non-Sticking Reed Assembly –

No Tuning Required – Effortless Re-Assembly
Professionally Designed & Field Proven to be Some of the Easiest Calls on Earth to Use and Master!

Duck Hunting Calls for Pintail, Widgeon, Teal, and Mallard Ducks available in single and double reed designs made of acrylic and exotic woods.

Turkey Hunting Calls available in Friction (slate, glass, and box), Mouth, and Locator designs made of purple heart and walnut.

Goose Hunting Calls for Canada, Speck, and Snow Geese available in short reed designs made of acrylic, exotic woods, and a metallic sound chamber.
Big Game and Predator Hunting Calls

Big Game Hunting Calls for Whitetail Deer, Wild Pigs, and Coyotes available in various designs made of acrylic and woods.

Hunting Call Components that are available are Replacement Reeds, Wedges, Guts, Inserts, and Kits for Duck, Goose, and Big Game Calls.
Cut Down Game Calls Customer Testimonial
Give the guys at Cut Down Game Calls a call. I have called and talked with them many times and they always seem to have time to talk about your calling style and just "exactly" what you are looking for. Trust me you won't be disappointed with a Cut Down Call. We all know that in 9 out of 10 "hunting" situations you don't need all that competition stage mess, just some low raspy quacks and maybe, some acorn feed chatter. Think about it.
We look forward to hearing feedback from the hunting public; so please contact us with any questions, or suggestions.
All Calls have been field tested in North and South America, Mexico, and Canada (from Alaska to Argentina). At Cut Down Game Calls, we strive to provide avid hunters only the best in quality calls for enjoying the sports we have come to love and appreciate more than any others… duck, goose, turkey, deer and varmint hunting. We manufacture calls for all species of geese, ducks, turkey, deer and predators. If you've ever heard a Cut Down Call in a duck blind, or while laying out on the cold ground when hunting geese or been on the business end of a shotgun while turkey hunting, you'll understand why we believe Cut Down Calls stand above the rest. Each one of our calls is tested and proven in the field, under actual hunting conditions. Our components are of the highest quality in the call manufacturing industry. We offer several models and price ranges throughout our whole line.
We are Proud Supporters of: