Goose Hunting Calls
Canada, Speck, and Snow/Blue Goose Calls and Sandhill Crane Hunting Calls

Custom Goose Hunting Calls
Canada, Snow, or Speck Goose Hunting Calls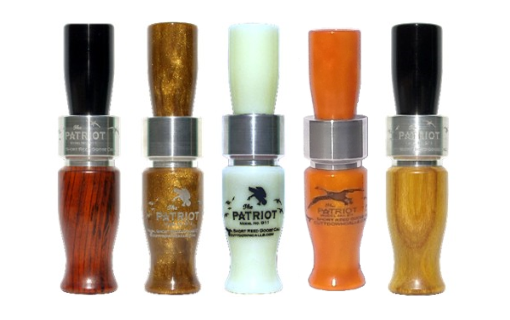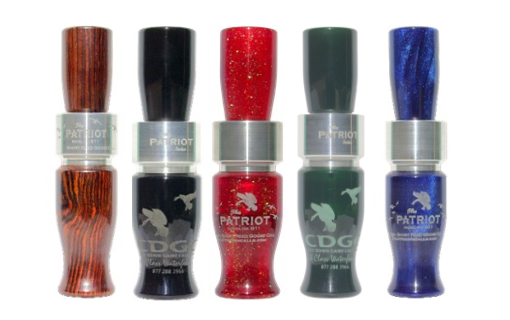 Patriot Series 911
Short-Reed Goose Call with an integral metallic Sound Chamber
This call has a unique design with an internal, back-bored metallic air chamber that rocks! Allowing the call to be one of the most versatile "SHORT REED" Canada calls on the market! It produces sharp, high-pitched clucks, double clucks, pleading calls, and low guttural grunts. The tone channel and reed design allows this call to be exceptionally easy to blow, yet, get super loud on the top end. This call comes with laser engraving, CNC'd all metal polished band, double locking o-ring design, and custom turned, hand polished acrylic (also offered in cocobolo). Professional guides and hardcore goose hunters from Canada to Texas have proven this call to be "DEADLY" on all species of geese including Cacklers, Lesser, Hutchinson, Taverns, Richardson, Greater Canada geese, Snows and Specks! No matter what species you chase, the new Patriot Series will have you covered up! Custom acrylic also available in Custom SNOW and SPECK. Premium materials and components for a premium goose call. This call has a Lifetime guarantee.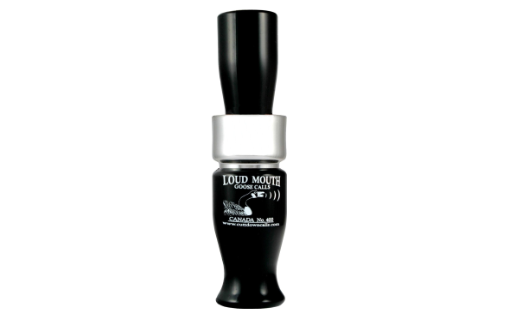 Loudmouth – Canada
If you are looking for an extremely easy blowing goose call that flat gets with it, you've found it! This Canada short reed call produces loud clucks, moans, double clucks and lay down calls that are sure to get "The Landing Gear Down"! Uses very little air! Comes with a "Quick-Tune" reed Location System, which guarantees easy tuning! Blows wet! Lifetime guarantee!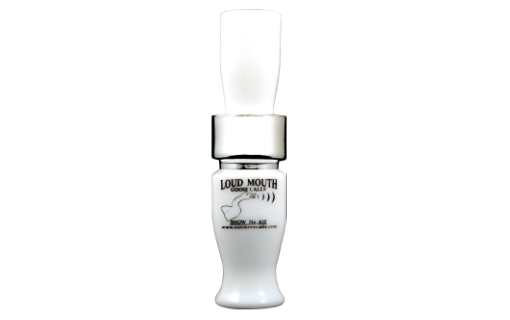 Loudmouth – Snow
With Snow Geese becoming more and more populated, hunters have more liberal limits! You need a Snow call that allows ease of use and delivers maximum volume! Well we built it! Introducing the new "WHITE LOUDMOUTH" Snow Goose Call! Produces extremely "LOUD", sharp, barks, murmurs and honks! Very easy to use! Internal back-bored chamber allows for ease of use. Lifetime Guarantee! Blows Wet!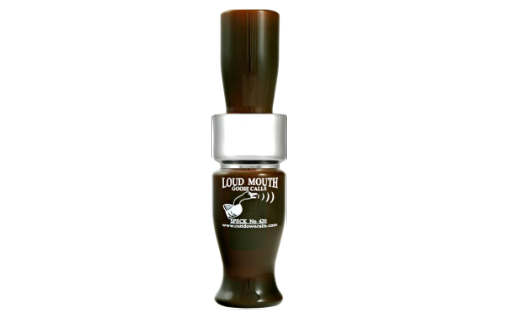 Loudmouth – Speck
This is one easy and versatile "Speck" call. One that will produce a wide range of vocalization, is extremely "LOUD" to cut the wind and versatile enough to get soft when in close! Revolutionary new
design guarantees this call to be the easiest call on the market to blow. NEEDS VERY LITTLE BACK PRESSURE OR HAND MANIPULATION TO OPERATE! You hold it like a duck call, with one hand. Reproduces the "LOUDEST" crystal clear sound of a Speckle belly goose that you have ever heard! Blows Wet!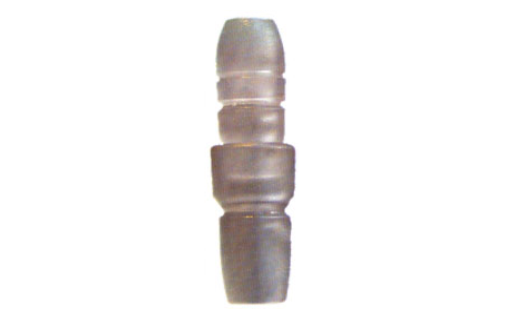 SN II Speck Call
The original Cutt Down Speck is designed to exactly reproduce the clear, crisp sound of an adolescent "speck" (White Fronted Goose), using minimal back-pressure. This call offers the "Quick-Tune" Reed Location System which allows the call to be taken apart and cleaned and put back together to factory specifications Lifetime Guarantee! Blows wet!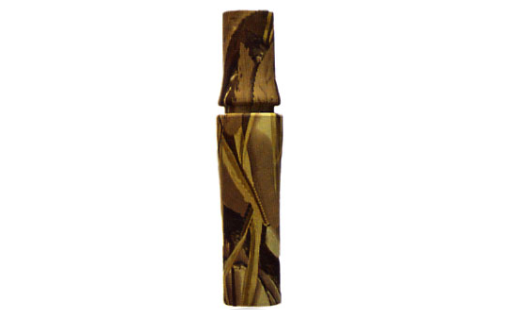 Sandhill Crane Call
Waterfowlers across the U.S. are learning about the finest eating game bird in the world, the Sandhill crane (The Rib Eye in the SKY!) Because of significant request, we have developed a Sandhill Crane call that is easily mastered and easily reproduces the trills of the Sandhill Crane! Color of call may vary!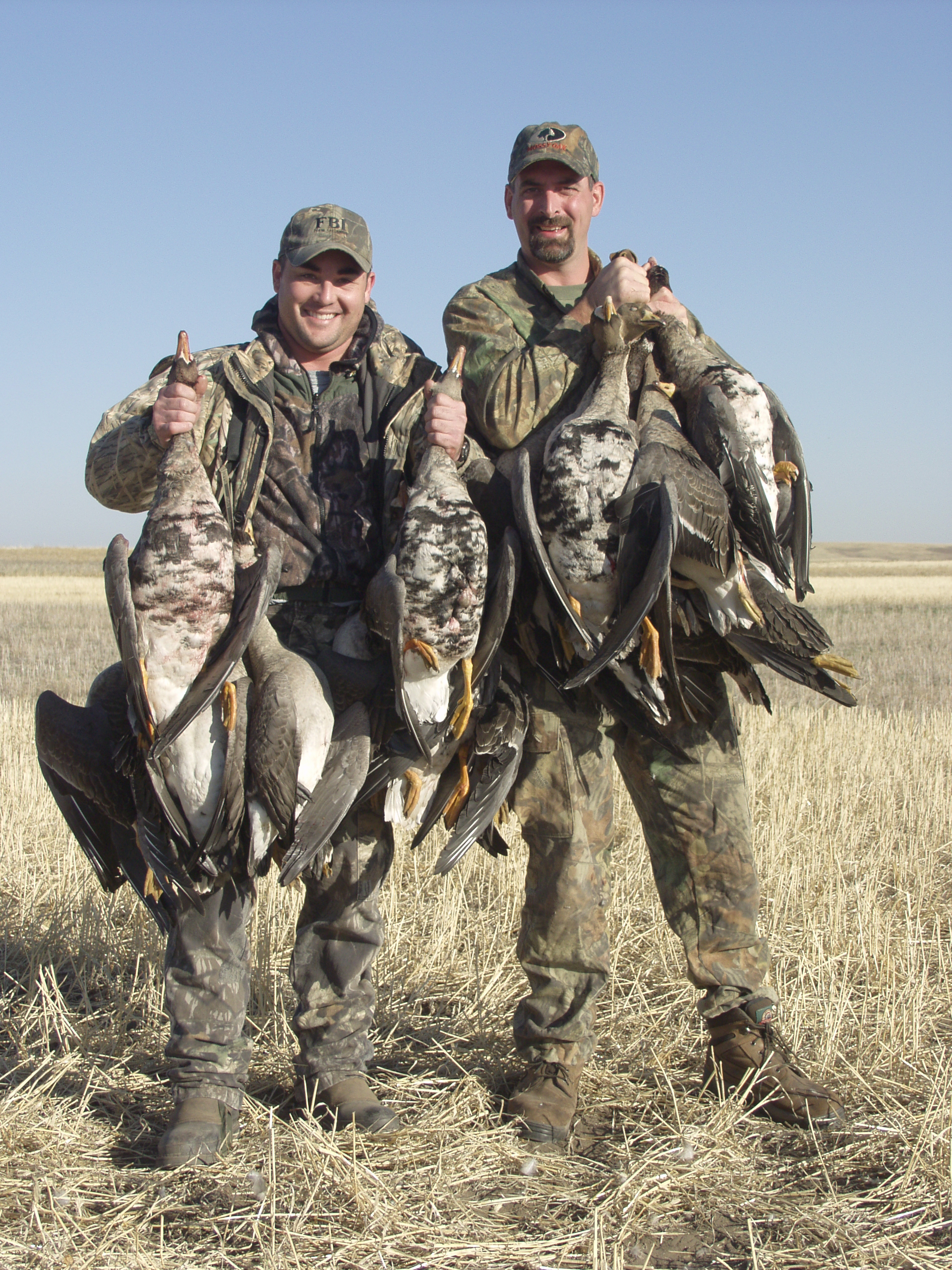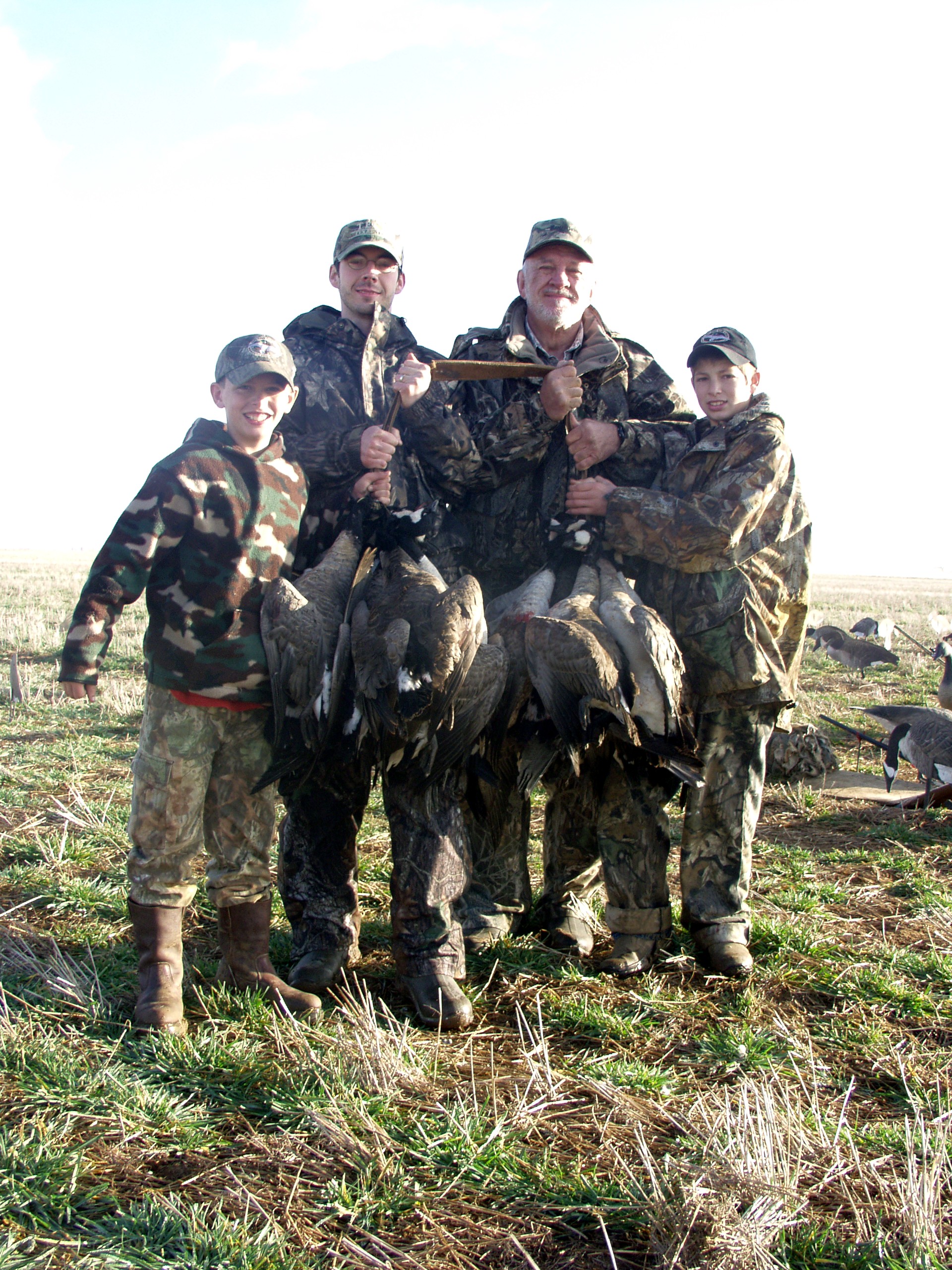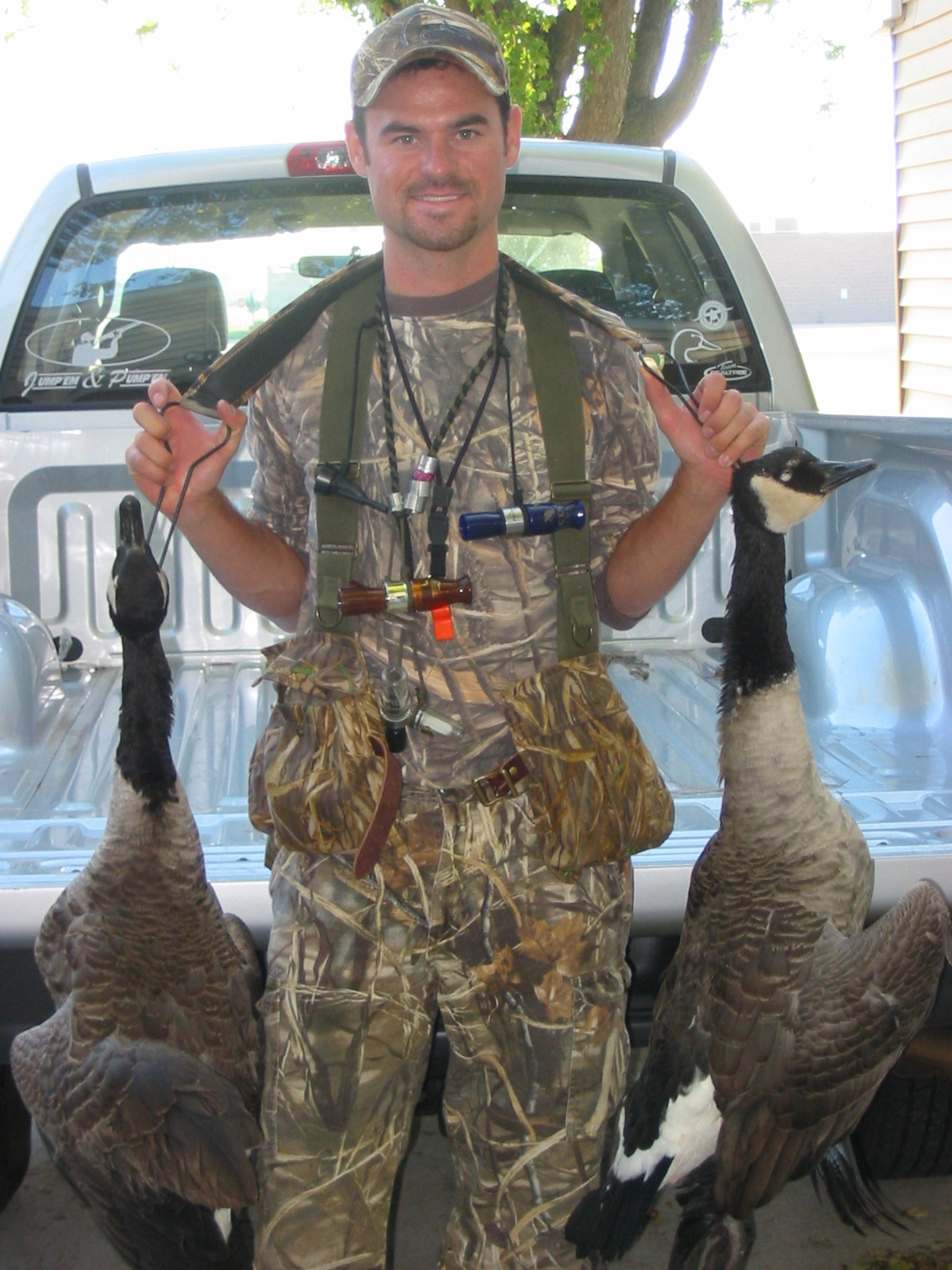 Goose Hunting Call Testimonial
It's Sept. 1 First day of early goose season in OHIO… My wife, son, and I headed out for are first goose hunt of the year. When we got to the place we were going to hunt it started to rain so we left there and went to a pasture field. We set out a dozen decoy's, hide in the corn field and waited. A flock came in silent I made a couple calls on the "Loud Mouth" goose call and here they come. BANG one fell. No big deal any call could do that. BUT STARTED CALLING AGAIN THEY TURN AND COME OVER AGAIN. BANG ONE FALLS. OK MAYBE WE HAVE SOMETHING HERE. I START CALLING AGAIN THEY TURN AND COME BACK AGAIN. BANG A THIRD ONE FALLS. Then they were gone. When I sent Ricky Girl (my dog) after them the first one was banded, the second one was banded, and believe it or not the third one was banded. WHAT A DAY. Later a group came over and my wife and boy took one apiece.
Ricky Nelson, Ohio
I was using your 911 Patriot goose call that I just received from you folks and it's the greatest! We have been limiting on geese since Thursday of last week and the best thing – its only taking us about 2-2 1/2 hours to do it. Thanks for the great call and come and see us sometime for sure. We have great duck hunting also guys!
Bryce
I got one of the "Loud Mouth" goose calls from the Cut Down guys at the TTHA show in Ft. Worth. One of the best molded calls I have heard. Really loud but still can get the low end. This one will stay on my lanyard.
Best goose call on the market by far!!!!
From Nathan VanDynHoven of Kaukauna, Wisconsin
This call was a lot more than I expected. It will do just what they say. Talked to the company and they were great with any help I need. I will be putting down my other goose calls for this one!